Highlighting

youth engagement

 projects, work & efforts in food system transformation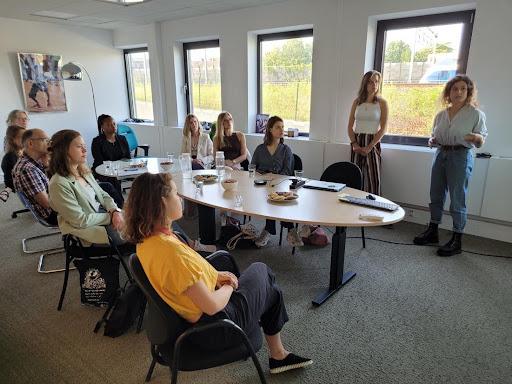 Wageningen Academic Consultancy Training (ACT Group)
Wageningen University (the Netherlands) provides an opportunity for Masters students to receive credit for an 8-week consulting project called the Academic Consultancy Training (ACT). The ACT team researched emerging innovations on the consumer side and how these can contribute to driving food systems towards healthier and more sustainable diets. These results help to inform interested parties (such as USAID) in gaining insights into initiatives for future investments. Eight Nutrition & Health Master's students worked with the IFSS Portal core team and the Food Systems for Nutrition Innovation Lab at Tuft's University to source consumer-facing innovations linked to the personal and external food environment for potential scaling in specific low-resource settings. The students originally sourced 138 innovations (technologies, practices, tools, products) and focused on 39 in their Final Project Report at the GAIN Netherlands office to the larger GAIN staff. The 2-month course involved co-learning sessions around the IFSS portal's backcasting tool, stakeholder interviews, and building skillsets around food systems change at the regional level.
Student project: Mapping 

"42 Policies & Actions" to innovative solutions
This Wageningen University Master's student research project tested and strengthened the IFSS portal solution search directory and mapped innovative solutions to the 2020 Food Policy Council's "42 policies and actions to orient food systems towards healthier diets for all" to help make these concepts more actionable. The mapping and bundling of policies and actions to concrete solutions triggered a conversation between the core teams at the IFSS portal and the Food Systems Dashboard (FSD) and started a discussion during the ANH Learning Lab Conference on different ways to move searches (with structured taxonomies and priortized keywords) towards concrete actionable solutions in real-world contexts, taking into consideration the multiple impact targets across dietary health, environmental sustainability and equity. The image to the right is an exampel of primary and secondary "bundles" of solutions that fit FSD action 42 ("Align all food systems policies and programmes with food-based dietary guidelines") based on the mapping methodology for Ethiopia.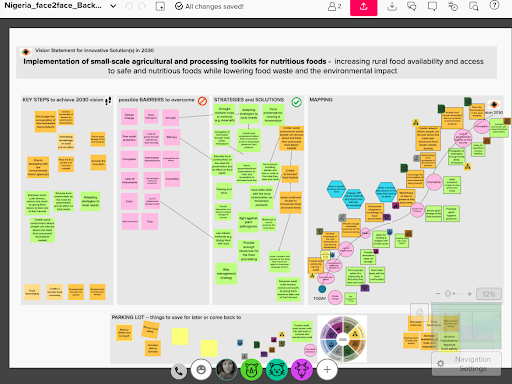 Wild Futures Project: Backcasting to Strengthen Innovation Case Studies
The Wild Futures Project is led by colleagues at Cornell University's Department of Global Development, part of the College of Agriculture and Life Sciences, and supported in part by funding from the Bill & Melinda Gates Foundation. The goal is to support expanding the climate adaptation options for smallholders through transformational innovations and develop tools to help inform food policy while also building in rail guards to try to avoid the worst unintended consequences of more radical change. Cornell graduate students and researchers developed pathway-to-impact maps for multiple innovative food system solutions using the IFSS portal backcasting approach that triggered critical & applied systems thinking. The process used here helped to identify key constraints and challenges to innovation at scale, and improve innovation foresight to anticipate unintended consequences to build bundles of innovations including policies and regulations to enhance the positive outcomes while mitigating the negative outcomes.
Youth researcher project: Innovations for

community-based risk management

in Sri Lanka
Cereals form an important proportion of dietary energy in Sri Lankan households, representing key sources of fibre, vitamins and minerals the contribute to community dietary health and reducing rates of undernourishment in children and youth. A dedicated member of the IFSS portal youth research team developed a pathway-to-impact map for a community-based risk management strategy around cereal banking with the aim to increase availability and accessibility of food staples to local rural communities in Sri Lanka during food system disturbances. This independnet youth research project was used to train and facilitate working sessions on World Innovation Day on 21st April 2022 for the 33 core youth country leaders of Act4Food/Act4Change's conference held in Kenya.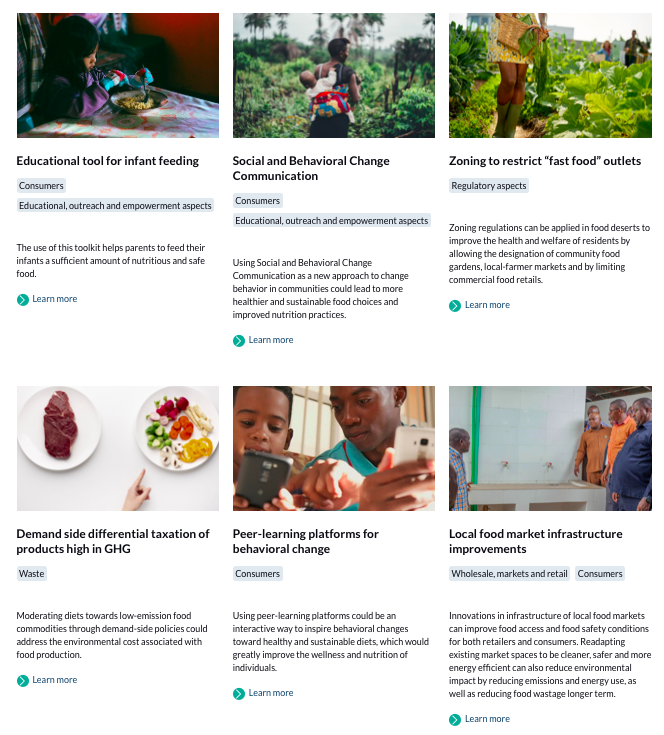 Youth researcher project: Innovations in the food environment
A large percentage of the innovative food system solutions currently included in the IFSS portal inventory so far focus on the production and supply side of the food system, with only a limited number of innovations that are more "consumer-facing ." Youth researchers with the IFSS portal team have been sourcing and drafting additional solution profiles to help fill this gap post-farm gate, with a focus on retail promotion and the food environment. Each solution profile page includes details about the solution itself, impacts on dietary and planetary health, and the potential to improve equity.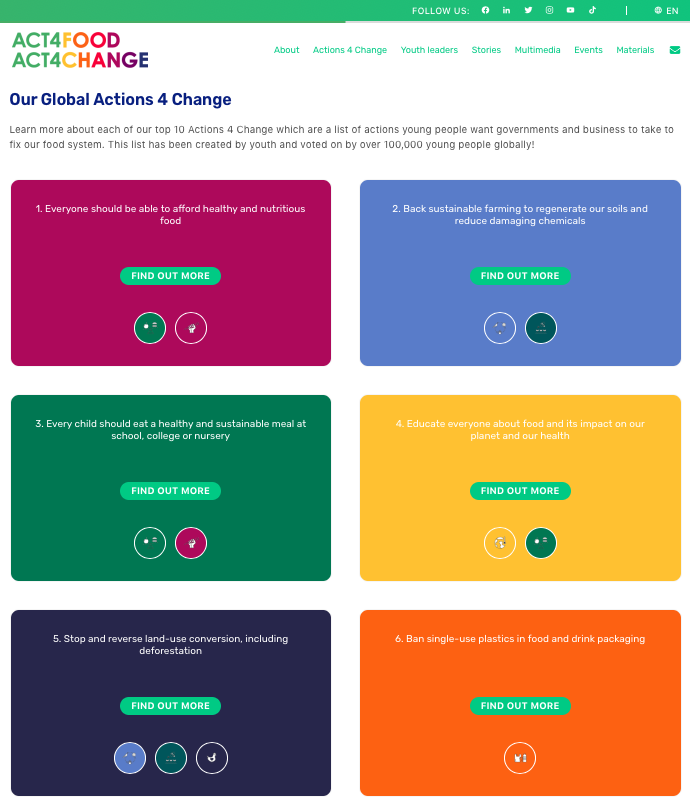 Body
Progressing though my public health nutrition career, I was extremely keen to learn more about the multifactorial model of food systems. I wanted to focus and find a specific niche to study, research, and work on impact and came across the opportunity to be a member of the International Research Youth Team for the IFSS portal.

As an IFSS portal youth researcher, I worked together with a team of solution-driven and impact-oriented individuals researching on existing and new solutions, developing solution profiles and moving these solutions to impact through the backcasting process. I helped to facilitate a workshop that was conducted for the 'Action4food Action4Change' global leaders and I was given the opportunity to develop and present on a Cereal Banks backcasting map for the Sri Lankan context. It was a learning curve for me to explore and gain knowledge on how to move forward with solutions for food systems with the current economic crisis in my home country. I hope to use the experience and knowledge gained through this opportunity and continue using the resources on the IFSS portal for innovative solutions in the Sri Lankan setting. To close, working with the IFSS team has been an incredible opportunity to learn more on how we need to reimagine food systems to ensure both human and planetary health by a deeper system understanding for impact driven solutions.
Body
As a Master's student in Nutrition and Health at Wageningen, I completed the "System Approach for Sustainable and Healthy Diets" course. Throughout these 4-weeks together with the IFSS portal team, I learned about the importance of adopting a holistic and integrated approach to tackle the complex challenges facing our food systems. Through my participation in the Academic Consultancy Training, I had the opportunity to apply my acquired knowledge in a practical setting and contribute to the search for consumer-facing innovations that could drive positive change in the food system.

As a student researcher, I was able to collaborate in adding solutions to the portal and delve deeper into solutions that aligned with my interests. Learning about the backcasting process improved my system thinking approach and gave me a deeper understanding of how to develop sustainable solutions considering the long-term consequences and their impacts on both human and environmental health. Both experiences also allowed me to broaden my professional network and connect with individuals from various backgrounds and areas of expertise, providing me with a greater appreciation for interdisciplinary collaboration.
Body
My work with the IFSS portal began as a student contributing researcher where I would help research solutions and input them into the portal database. I helped out with a webinar with Nutrition Connect and Act4Food Act4Change explaining what the portal is and how young people may be able to benefit from the portal's resources, including the backcasting tool.

I also had the opportunity to join the Act4Food Act4Change team in Kenya where we had a session hosted by IFSS learning more about the backcasting tool and how this will help young food systems transformation leaders in their projects all over the world. It was super fun to research solutions from all over the world to contribute to the portal. It is so encouraging to learn and read about creative projects that people from all over the world are implementing to solve issues along our food value chains. My research role with IFSS lead me to a consulting knowledge mobilization internship with Nutrition Connect, the Global Alliance for Improved Nutrition's public and private engagement resource platform. Which in turn lead me to becoming the US lead for Act4Food Act4Change a global youth led initiative advocating and enacting a more sustainable food system.
Body
When I first started working with the IFSS team I had just enrolled in the MSc program in Nutrition and Health at Wageningen University and Research. A big chapter of my life had just started and I was feeling confused and lost. The IFSS portal team warmly welcomed me, answering all my questions and doubts and involving me directly in the backstage of tons of projects. The team continuously gave credit to my questions and feedback, and I felt I could be both dedicated to the IFSS portal, while respecting my full-time MSc agenda. As an IFSS student portal researcher, I developed solution profiles and backcasting maps, and had the opportunity to facilitate a backcasting workshop for GAIN's 20th anniversary,

Overall, my experience with the IFSS team was explorative and clarifying. I got the chance to (freely, yet supervised) dig into food Systems-related themes, to connect with the many partners of the platform and identify better my interests. It was great to be part of such a promising and inclusive project, involving amazingly competent and passionate people from around the globe.
Body
As an intern for GAIN through the Boston University Public Health Study Abroad Program, I worked on adding new innovative food systems solutions to the IFSS portal. One innovative solution I added was the "Gender-Sensitive Online Retail of Foods" solution which proposed the development of digital platforms targeted toward women who are disproportionately affected by food insecurity to allow for more convenient, safe, and affordable ways to order and deliver nutritious foods to their homes. Through the process of exploring and researching different food systems solutions, I gained research and communication skills and learned so much about nutrition related topics such as food insecurity, sustainability, and consumer choices. Coming from the United States as a Global and Public Health Sciences major, it was truly phenomenal to be able to experience the real-world global aspect of global and public health.

This cross-cultural co-learning experience with the GAIN and IFSS portal team was more than I could've ever imagined as it allowed me to meet and connect with individuals from different academic and cultural backgrounds who share a common love for nutrition and innovation. This shared passion among the team made learning fun and positively shaped my perspective on food system transformations.
Body
The Wageningen University Academic Consultancy Training (ACT) is the moment where you can put your (academic) learnings into practice. This 8-week transition from the academic world to the consultancy world during our Masters program was a peak learning experience for us. Our collaboration with GAIN and the IFSS-portal was wonderful, we learning about consumer-facing innovations, the backcasting process of moving innovations to concrete action, we developed solution profiles on the IFSS portal, and we will involved in a larger scoping project for GAIN's theme on sourcing innovations in the food environment space applicable to consumer choices and retail promotion. Discussions with the IFSS portal team provided us a safe environment where we could ask questions, develop and learn, and be creative along the way. Besides learning and sourcing about 200+ consumer facing innovations (!), we learned a lot about ourselves and how we worked as an interdisciplinary team as well.
Body
Working with IFSS Portal enabled me to dive deeper into food systems and expand my knowledge of global nutrition. I had the opportunity to give my contribution both as part of the IFSS Portal youth research team and also during the MSc course ´Food Systems for Healthier and Sustainable Diets´.
As part of the research team, I contributed to the creation of food systems solutions that were incorporated into the online IFSS portal. The process of developing these solutions profiles gave me the opportunity to expand not only my knowledge portfolio regarding 'system thinking approaches' as well as my personal skills, such as critical thinking, proactivity and creativity, discipline, time management, and work ethic.

During my MSc course, I worked with my group through the backcasting process and had to consider the enablers, accelerators, trade-of and more into the implementation of the solution -- which required a lot of critically thinking of creative paths to accelerate the impact of the solution. From both a professional and personal level, being part of the IFSS Portal team provided me the opportunity to connect and engage with incredible people from several fields and pursued me to learn and engage with different insights and experiences, as well as creating an amazing network. I couldn't be happier for deciding to join IFSS Portal team.
Body
I'm working with Cornell University's Food Systems Global Change team's Wild Futures project to map out possible impact of upcoming agri-food innovations. This has involved creating an implementation plans for bacteriophages to improve animal health, reduce antimicrobial resistant (AMR) infections amongst livestock, and boost food safety.

Working with the IFSS team helped me contextualize the larger antimicrobial resistance ecosystem and the work being done to address this multifaceted problem. Brainstorming with Françoise deepened my understanding of the nuance of antibiotic use within livestock production and what would need to happen for real food systems transformation.