EatSafe Food Safety Innovation Challenge 2022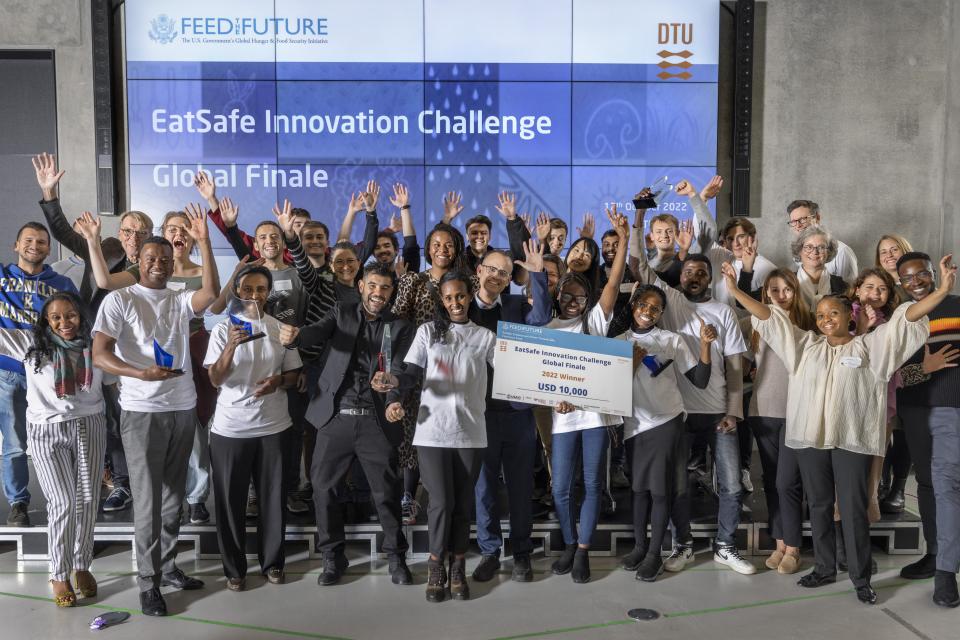 A call to improve food safety in local traditional market settings
Unsafe food, a preventable hazard, is responsible for one in 10 people falling ill and the death of at least 125,000 children globally every year. Low- and middle-income countries (LMICs) bear the largest burden of foodborne disease, which costs these countries an estimated US$110 billion in productivity and medical expenses annually. In Ethiopia and Nigeria, food safety is an important public health issue across the food value chain. In 2019, a survey showed that 33% of Ethiopians and 20% of Nigerians experienced serious harm from food and water, leading to illness, malnutrition, stunting and death.
While innovations in high-income markets address food safety risks from farm to market, few of these ideas reach traditional markets and their regional value chains, where millions of consumers source food daily. In April 2022, the USAID-funded Feed The Future Initiative, EatSafe: Evidence and Action Towards Safe, Nutritious Food (EatSafe), launched the call for applications for the EatSafe Innovation Challenge. The Challenge aims to enable lasting improvements in the safety of nutritious foods in Ethiopia and Nigeria, and over 750 applications were received.
Innovators apply the backcasting method and 10 proceed to the National Competitions
After two screenings, 40 applicants took part in the Backcasting: Moving Ideas Towards Actions for Impact Workshop Sessions. The backcasting maps were assessed according to key criteria, including food safety and nutritional benefit, adaptability to low- and middle-income countries, scalability, and environmental sensitivity. 10 innovative concepts emerged as finalists to proceed to the EatSafe National Innovation Challenge in both countries, five finalists from Nigeria and five from Ethiopia.
Title

EatSafe Challenge Backcasting Maps
Text
Click here to view the top 10 finalist backcasting maps in Nigeria and Ethiopia which range across the food safety categories!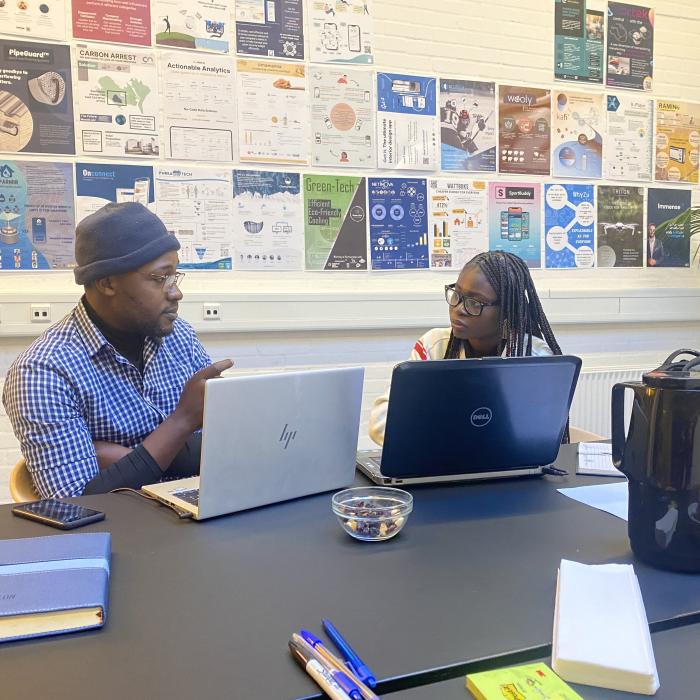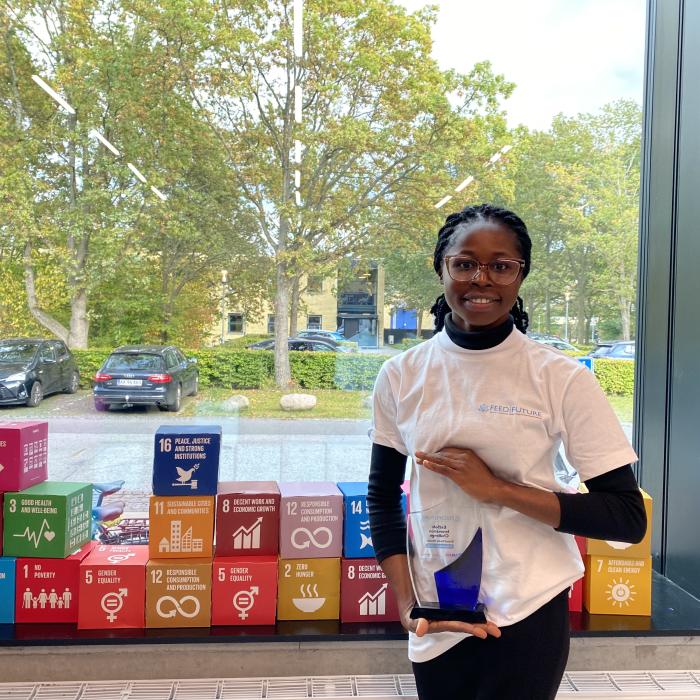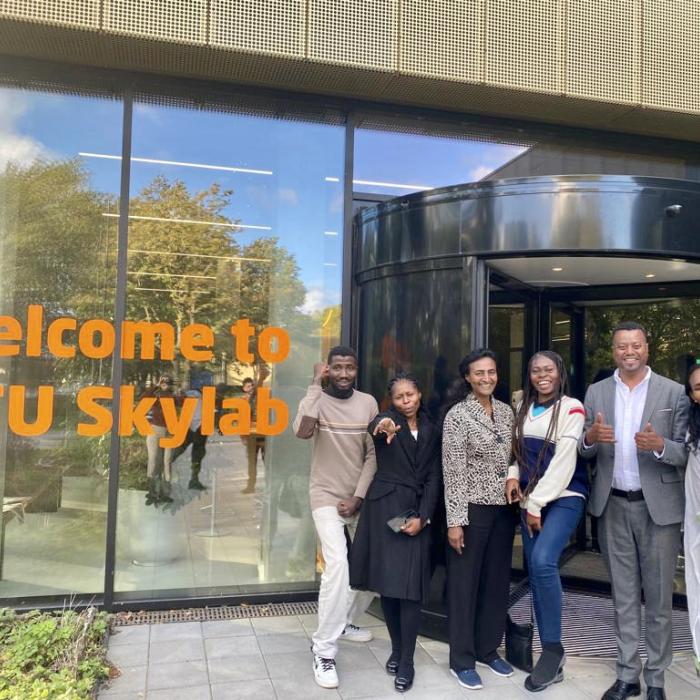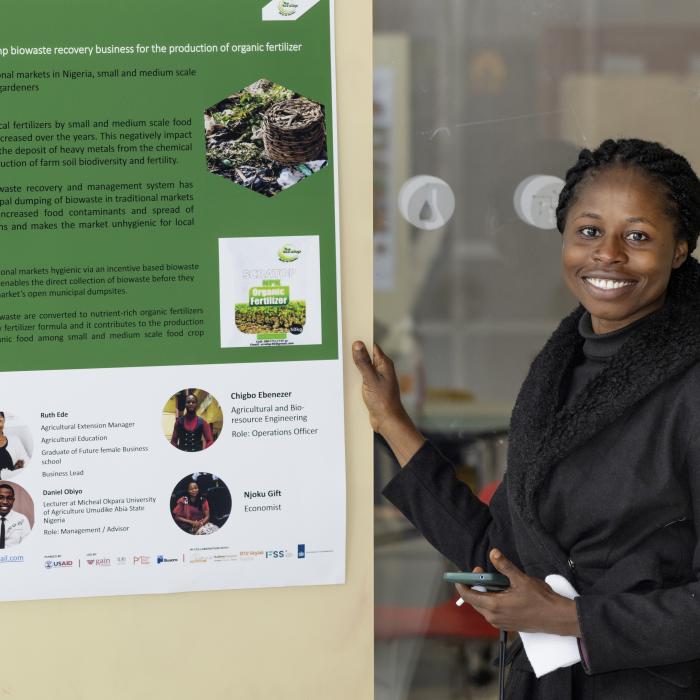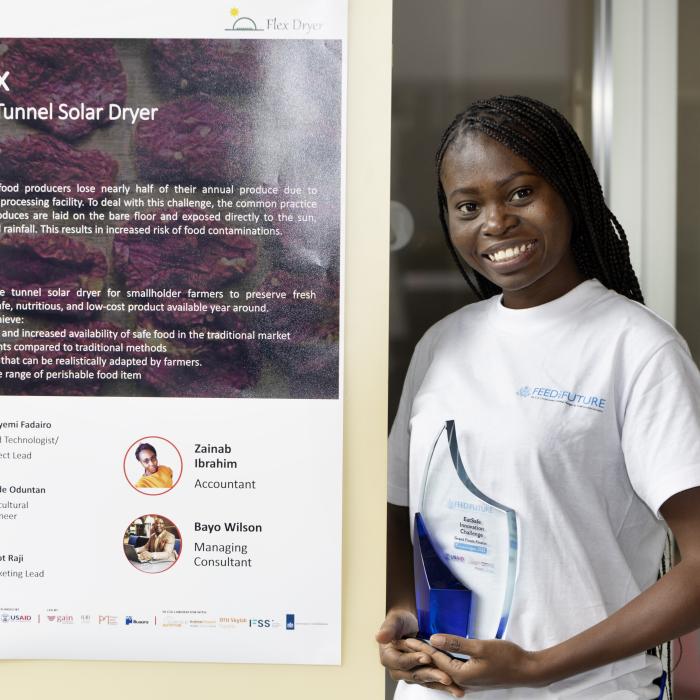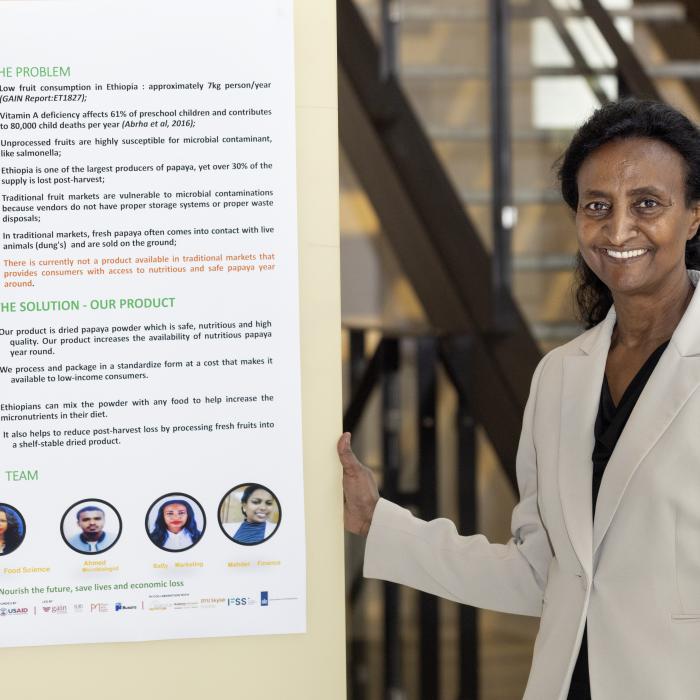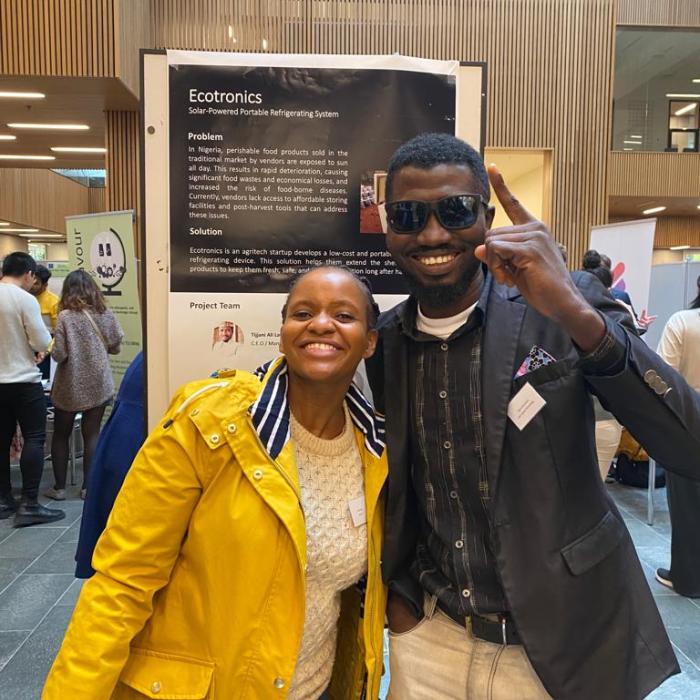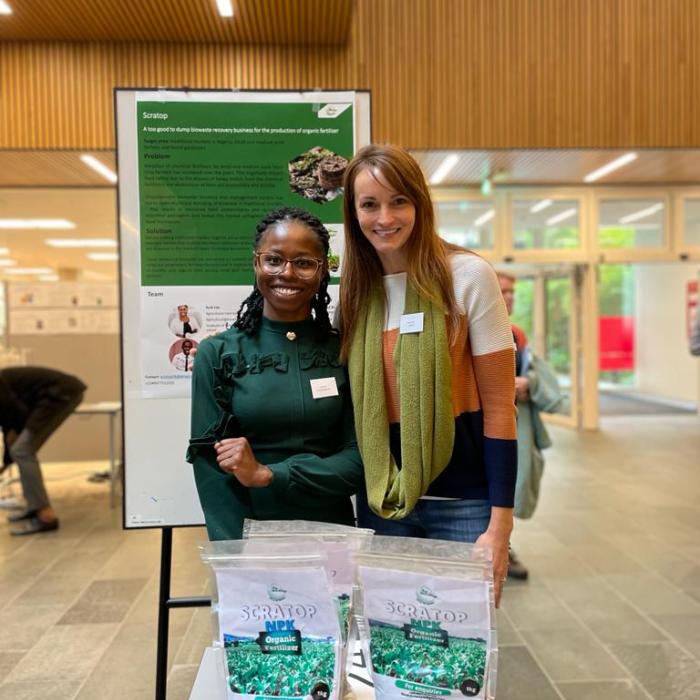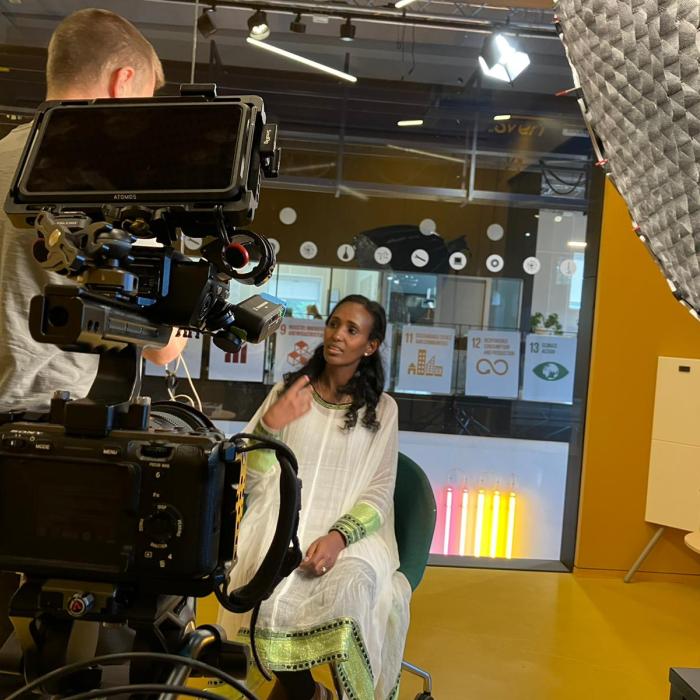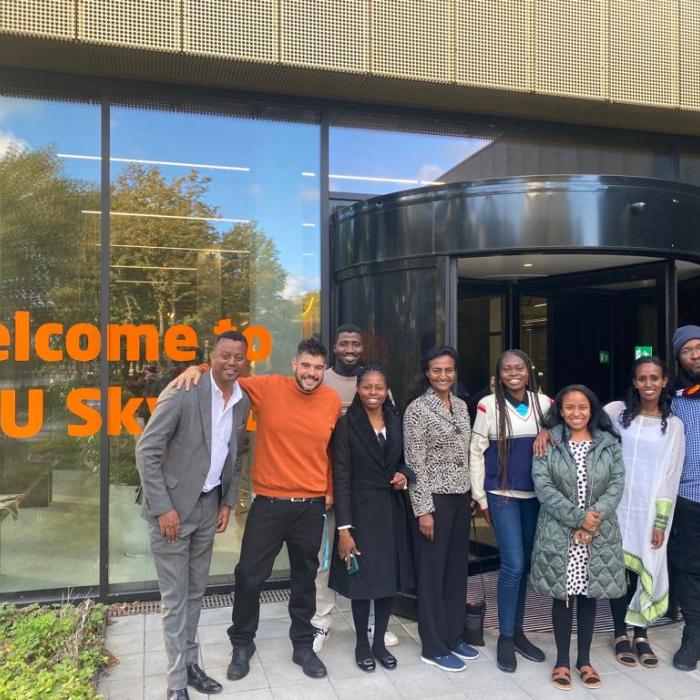 EatSafe's six innovation finalists travel to Copenhagen and work with DTU technical and food safety experts
After the National Challenge pitch events, the top three finalists from both countries proceeded to the Global Finale at the Technical University of Denmark Skylab FoodLab (DTU), Lyngby in October. From Nigeria, the top three finalists are Tijjani Ali Lawal, Ruth Ede, and Oyeyemi Fadairo. In Ethiopia, the top three finalists are Helen Weldemichael, Yezichalem Tessema, and Eyoel Legesse Arega. Finalists worked with DTU technical experts to improve their innovations and then participated in their final global pitch competition.
DTU Skylab FoodLab hosted a 2-day event at the DTU Skylab for the EatSafe Innovation Challenge Global Finale. The first day was focused on business and innovation development, pitch coaching and preparation, and a short pitch video shoot. The second day was a hybrid event with a morning seminar on global food safety and the Global Finale Pitch competition.
DTU SkyLab FoodLab Grand Finale Competition
After a highly competitive pitch session in Denmark, Helen Weldemichael was awarded the first place overall winner for her mechanized processing innovation that improves the safety and increases efficiency of processing enset, which is a staple food to about 20 million Ethiopians. 
Oyeyemi Fadairo, whose innovation was an inflatable solar tunnel dryer to prevent food spoilage, took second place, while Ruth Ede came in third for her innovation that converts bio-waste from traditional markets into high-yield organic fertilizer. The first-place winner was awarded with USD $10,000, and second and third places were awarded USD $5,000 and USD $3,000 respectively.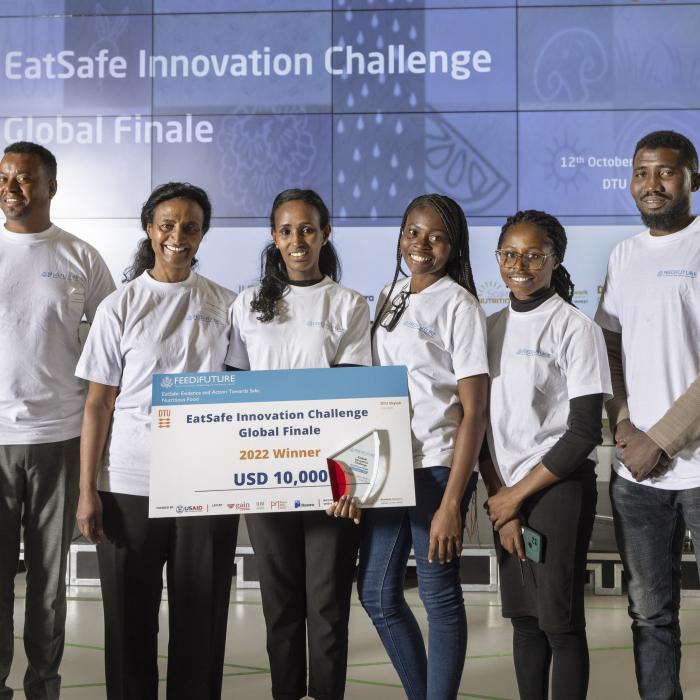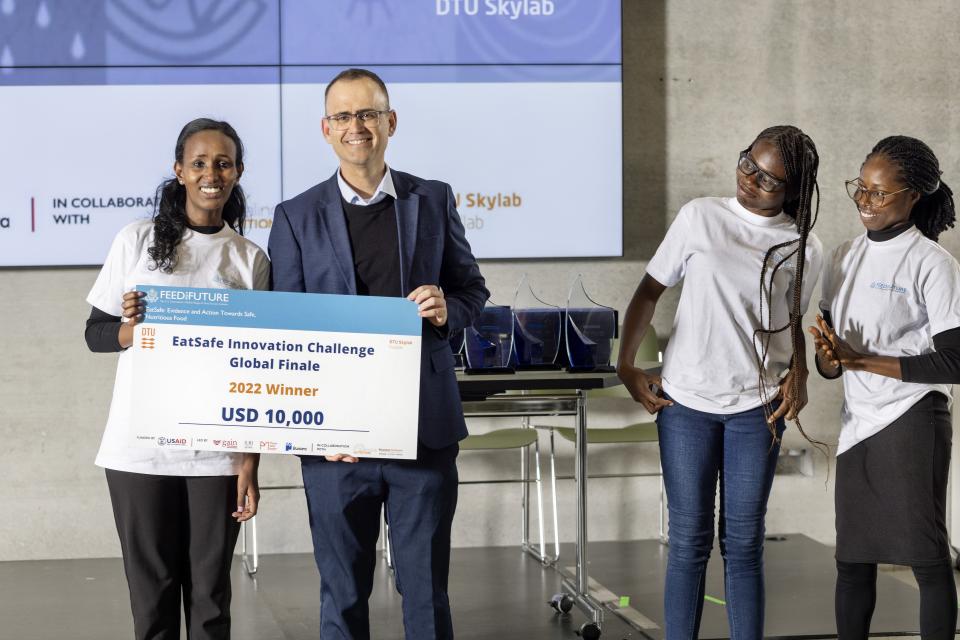 Ethiopian innovator emerges as winner of EatSafe Food Safety Innovation Challenge
Delighted at being announced as the first-place overall winner, Helen said 'It has been a great opportunity to represent my country at such a global event. I would like to express my gratitude to those who led the event and support providers for giving me a chance to deliver safe food to my community by reducing the workload of women.'
Dr. Richard Pluke, EatSafe's Program Director and one of the judges during the Global Finale, congratulated all the finalists on their journey so far, recognizing their passion, and commitment to delivering safe food in their countries. Exciting opportunities continue to exist for the finalists with offers of support from mentors and other stakeholders in Ethiopia, Nigeria, Denmark, and beyond. To learn more about all the finalists and their innovations, click here. Check below for a glimpse of the finalists' innovative food safety solutions. 
Title

About the EatSafe Challenge
Text
You will find the responses to all the questions you may have about the EatSafe Innovation Challenge, as well as further information on the call to all students, researchers, entrepreneurs, and innovators passionate about improving food safety in Ethiopia and Nigeria.
Tijjani Ali Lawal, FOUNDER, FARMSPACE TECHNOLOGY, Nigeria

Contact: tijjanali@gmail.com   

Problem: In Nigeria, perishable food products sold in the traditional market by vendors are displayed under the sun all day. This results in rapid deterioration causing high food and economic losses for vendors and exposes food to contaminates rendering them unsafe for consumption. Vendors lack adequate access to storage facilities and improved post-harvest tools that can address these problem.

Solution: Ecotronics is an agritech startup that manufactures an innovative low-cost portable solar-powered refrigeration device. Our innovation provides vendors an affordable and sustainable cold storage service for perishable food products in the traditional marketplace. This solution helps them extend the shelf life of their products to keep them fresh, safe, and in good condition long after harvest.
Oyeyemi Fadairo, RESEARCH & PROJECT ASSOCIATE, SIMPLIX CONSULTING, Nigeria

Contact: oyeyemifadairo@gmail.com

Problem: In Nigeria, perishable food producers lose nearly half of their annual produce due to inadequate storage and processing facility. To deal with this challenge, the excess produce are usually laid on the bare floor and exposed directly to the sun, pests, animals, dust, and rainfall to dry but this results in dried products which are unsafe for consumption.

Solution: SolaFlex is an inflatable tunnel solar dryer for smallholder farmers to use to reduce loss of fresh produce and create a safe, nutritious, and low-cost product available year around. Our innovation helps achieve: (1) Faster drying time and increased availability of safe food in the traditional market (2) Retention of nutrients compared to traditional methods (3) Simplicity of design that can be realistically adapted by farmers (4) Applicable to a wide range of perishable food item. 
Ede Ruth Chikodi, Business Lead, Nigeria

Contact: scratop36@gmail.com

Problem: Increased adoption of chemical fertilizers by small and medium scale food crop farmers who are major food producers in the country and its negative impact on food safety due to the deposit of heavy metals from the chemical fertilizers on the food crops harvested and destruction of farm soil biodiversity and fertility. Open municipal dumping of biowaste in traditional markets due to Unsustainable biowaste recovery and management system, this has led to making the market a residential area for food contaminants , increasing the breeding and spread of harmful microbial pathogens and leaving the market unhygienic for the food business and the food unsafe.

Solution: Scratop is a a too good to dump biowaste recovery business for the production of organic fertilizer. We are making traditional markets hygienic via an incentive based biowaste recovery system that enables the direct collection of biowaste before they are disposed in the market's open municipal dumpsites. These recovered biowaste are converted to nutrient rich organic fertilizers using our proprietary fertilizer formula and it contributes to the production of healthy and organic food among small and medium scale food crop farmers.
Helen Weldemichael, Associate Professor at Wolkite University, Ethiopia

Contact: nelehwm@gmail.com 

Problem: The traditional methods of processing Enset (Ensete ventricosum) ) are extremely unhygienic and time consuming. People often use barefoot to process it and apply unsafe traditional processing equipment . Moreover, they used surface and pit fermentation for preparation of Kocho (fermented product of Enset). In fermented kocho, spore-forming Clostridium and Bacillus anthracis were found and likely introduced during the fermentation process which is traditionally done on the ground or underground. The unavailability of improved technology that can improve safety and increase efficiencies affects not only agricultural production but also the well-being and health of family members who eat Enset.

Solution: We developed an enset processing machine, starter culture and fermentation pot. The availability of improved processing devices helps to prevent food cross-contamination from biological (microbiological) and physical food safety hazards. In addition, it contributes to saving time and energy and improving the well-being and health of family members. Moreover, good manufacturing practices followed by starter culture inoculation provide a guarantee of fermentation processes. It helps to reduce fermentation time, improve product shelf life, standardize the product and decrease the availability of short-chain chain fatty acids.
Yezichalem Tessema, CEO, THEDAY AGRO INDUSTRY PLC, Ethiopia

 

Contact: yezich@thedayjam.com

Problem: In Ethopia, there is a low fruit consumption of approximately 7kg person/year. Vitamin A deficiency affects 61% of preschool children and contributes to 80,000 child deaths per year. Papaya fruit is a major source of vitamins (Vitamin A and C), however,  unprocessed fruits are highly susceptible for microbial contaminant, like salmonella. Ethiopia is one of the largest producers of papaya, yet over 30% of the supply is lost post-harvest. Traditional fruit markets are vulnerable to microbial contaminations because vendors do not have proper storage systems or proper waste disposals. In traditional markets, fresh papaya often comes into contact with live animals (dung's)  and are sold on the ground. There is currently no product available in traditional markets that provides consumers with access to nutritious and safe papaya year around.

Solution: Our product is dried papaya powder which is safe, nutritious and high quality. Papaya powder uses the latest fruit drying technology in order to have minimal nutrition loss during food processing. This innovation provides nutritious, quality and affordable dry fruit and fruit-based snacks to our population in Ethiopia. This idea will also help to reduce post-harvest losses of fruits, especially when in season, by converting the fruit into powder for use when it is out of season. The innovation will identify techniques to minimize the risk of contamination of the papaya powder during the drying process.
 

Eyoel Legesse Arega, DIRECTOR OF FOOD MANUFACTURING BUSINESS UNIT, ETHIO-GABANA TRADING PLC, Ethiopia

Contact: EyoelL@ethiogabana.com

Problem: Stunting affects 37% of children under age of 5 and generates an economic loss of $1.8 billion every year. Shell egg spoilage and damage is a serious risk factor for microbial contaminants, like salmonella. Other issues include poor transportation and storage system, a short shelf life (not more than two weeks), and limited accessibility across different regions. 

Solution: Processed whole egg powder can eliminate the risk of Salmonella in fresh eggs. Processing also provides a long shelf life, easy-to-measure portions and application in local stews like 'shero' and 'meser wet'. The whole egg powder also contains supplemental fortification with minerals and vitamins. Our company, Ethio-gabana Trading, is available to provide processed whole egg powder and fortified supplementary food for children, lactating mothers and pregnant women to improve daily nutritional intake. In addition to this, by empowering women through breaking gender bias, we create economic growth by sourcing table eggs for our whole egg powder directly from women-owned poultry farms.
The portal initiative is a truly ONGOING, OPEN and COLLABORATIVE effort between multiple groups spanning the fields of nutrition, sustainable agricultural development, and environmental health.
The database of innovative solutions in the portal was launched with 100+ solutions that were identified through multiple food system innovation "sourcing" efforts by the core team (research papers included below in Background Resources).
Moving forward, the portal will continue to grow as more innovative solutions, examples and additional resources are added by individuals and teams working around the world on these same issues.
We welcome your contributions!
The Challenge is an activity led by the EatSafe Consortium, which includes the Global Alliance for Improved Nutrition (GAIN), International Livestock Research Institute (ILRI), and Pierce Mill Entertainment and Education, Busara Center for Behavioral Economics. Supported by the Scaling Up Nutrition Business Network (SBN), the Dutch Ministry of Foreign Affairs, the Technical University of Denmark Skylab FoodLab  and Innovative Food Systems Solutions.
This Challenge was made possible through support provided by Feed the Future through the U.S. Agency for International Development (USAID), under the terms of Agreement #7200AA19CA00010. The opinions expressed herein are those of the Global Alliance for Improved Nutrition (GAIN) and do not necessarily reflect the views of USAID or the United States Government.​